The building looks like a spaceship that has just landed, in a green oasis near the Baltic Sea shore. An imposing plaza extends in front of the nearly 7000-square-meter structure composed of oblique angles and expanses of glass. The "Latvia" concert hall, which opened in July 2019 along with a music school and music library in Ventspils, Latvia, is a visual treat – and not just from the outside.
Anyone who crosses the threshold of this concert hall, which cost approximately EUR 31 million, and makes their way into the larger of the two halls – the larger one holds about 600, the smaller about 150 people – will be amazed. Lamps reminiscent of manta rays float high above people's heads, elegant wooden ribs surround the view of the stage. The concert hall houses Latvia's only public music library, a unique acoustic organ built by the German Johannes Klais, and what is probably the world's largest piano. The piano, which weighs 800 kg and is four and a half meters tall, is suspended on the wall three meters above the ground and is only accessible via a wooden stairway.
Library, school, and music studio
If after an event in the concert hall you have become curious about new music, you should take a look at the music library next door. With an area of more than 150 square meters, it offers edification to students of the music school and it is also open to the public. Among other things, it houses an acoustically dense room including screen for very special music experiences, as well as a sound studio for recording.
"Latvija's" large auditorium seats 600 people. (Photo: Lauris Aizupietis)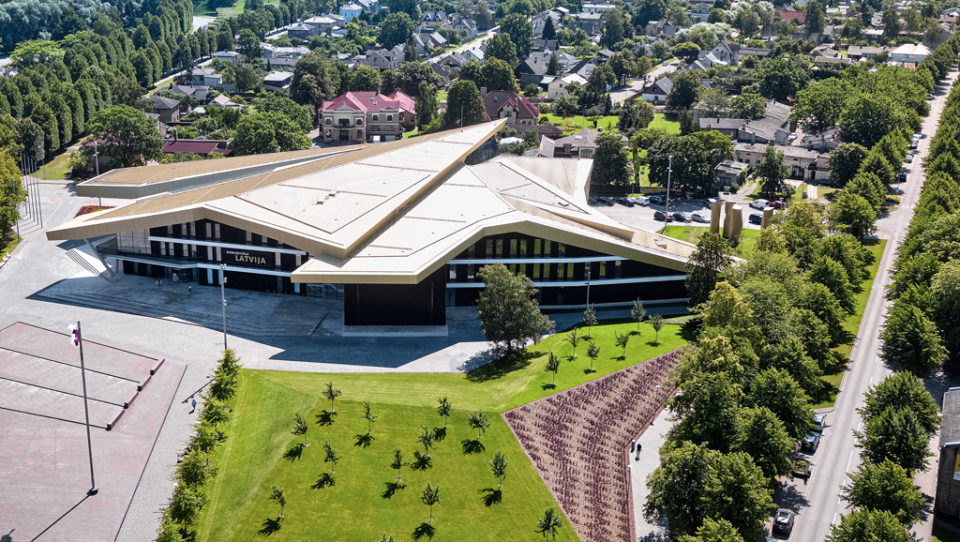 The building cost 31 million euros and is sure to impress. (Photo: Adam Mørk)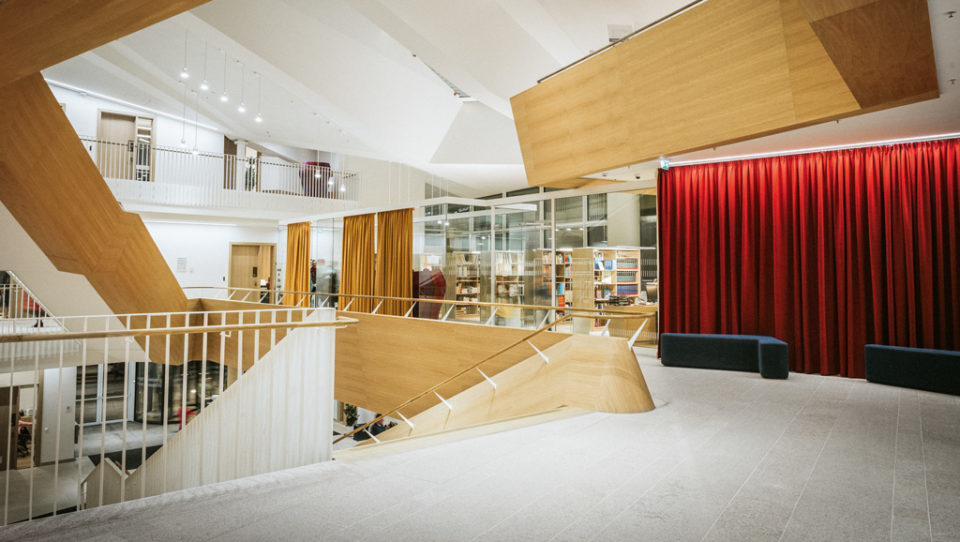 Its look was created by Stuttgart-based architects haascook-zemmrich. (Photo: Lauris Aizupietis)
«
»
"No day is like another"
This musical wonderland is the workplace of Edgars Šifers. He started his job as technical director there in August, after the concert hall was completed. Previously, he worked as an IT system administrator for twelve years. He likes his new job and goes on to explain "No day is like another. Because the building is new, we are still learning to understand it." As an IT specialist, he works with the building management system and he is responsible for electricity, monitoring technology, fire protection, and ventilation. It's the latter that occupies the bulk of his attention in this start-up phase. "I learn something new about the configuration of the ventilation nearly every day," he says.
Several systems provide ventilation and air conditioning for the concert hall. In total, there are nine central ventilation systems and a decentralized system that works with individual units. While both concert halls are supplied centrally, decentralized facade ventilation puts fresh air into play in the smaller rehearsal rooms and the music library, and this in an innovative manner.
Decentralized ventilation "breathes"
A total of 74 FVPpulse units made by LTG AG of Stuttgart are installed in the rooms on the ground along the facade and these "breathe." One fan apiece is installed in these units and a motor controls a flap which changes position every 20 seconds and thus regulates inflow and outflow — the breathing in and out, so to speak. Fresh air and exhaust air are taken in and blown out through the same opening in the wall. No ventilation ducts are required, which makes installation much simpler. The units work automatically and also regulate the CO2 level of the air in the rehearsal rooms.
The individual steps of how LTG's FVPpulse units work. (Animation: Christoph Kalscheuer)
Furthermore, they also contribute to the building's basic concept to be energy-efficient. "In a room with three people, power consumption is less than 10 watts. That's a great success," says LTG executive Ralf Wagner. The LTG engineers have also done great work with the heat recovery; a heat accumulator warms the air in the unit that is drawn in from the outside. "This way, we can achieve efficiency levels of up to 90 percent." Additional energy efficiency measures are a heat pump with approximately 400 geothermal probes and five ventilation ducts under the concert hall that are each approximately 100 meters long.
Ventilation has to be quiet
With regard to ventilation, in addition to questions of efficiency, acoustic values are especially important. In the rooms of the music school where private lessons are given, a loud ventilation unit would be extremely disruptive. "With the FVP pulse, there were strict noise specifications. We had to think about that together," says Rudi Weinmann, a regional sales director at ebm-papst, who has assisted LTG as a customer for more than 20 years. In each FVPpulse unit, there is an ebm-papst RadiCal, which is very quiet. However, the asymmetrical intake situation and the flap design of the units caused turbulence in the inflow to the fan, which generated noise emissions that were too high. "Vortex plaits were created which directly hit the rotating impeller blades and thus produced a disturbing rotary sound," explains Weinmann. Together, the engineers at LTG and ebm-papst came up with the solution to the problem: ebm-papst's FlowGrid. Mounted on the intake side, it splits up the vortex plaits and significantly weakens them as they flow through. This reduced the sound pressure level and, finally, the noise emission by 6 dB(A).
There is still potential for improvement
The ventilation works quietly and efficiently, but it can still be improved. At least this is what Edgars Šifers thinks. He is currently experimenting with the control of the FVPpulse units based on the music school's working hours. It is open from 8:00 AM to 9:00 PM. To save energy, the ventilation units are switched off outside of these times. "However, when the units are only switched on at 8:00 AM, that's not optimal for the indoor climate," he says. "For now, we will switch them on at 6:00 AM and see how that goes. Perhaps in the future, it will be sufficient if we switch them on at 7:00 AM." Just as in the small classrooms where people practice scales and rhythms, the adjustment of the ventilation also requires some patience.