The whole business did not exactly get off to a promising start. In June 2012, Juan Corbalán, sales engineer at ebm-papst Iberica, received an enquiry from the air conditioning system manufacturer Intersam for large AC fans with a specific high operating point. 108 such fans were required to help cool the air at a new abattoir run by the Olot Meats company near Girona. The ebm-papst range does include this type of powerful fan, but it is only available with EC technology and not as an AC version. Although EC fans are more expensive to purchase, they use far less energy and are thus more economical to run as well as being quieter. However, Intersam were only responsible for supplying the evaporator units for the project and were bound by strict cost limits set by the installation company Fritecno and so decided to look for an alternative product from a different manufacturer. Which would normally have been the end of the story.
Bags of good arguments 
But the Spanish branch was not prepared to give in so easily. In view of ebm-papst's long-standing close relationship with Intersam and a number of successfully completed orders involving EC technology, Corbalán got in touch again and suggested a joint visit to Fritecno. "We were aware that they had worked with AC fans and frequency converters in the past and not always found these satisfactory," according to Germán Rojas, sales engineer at Intersam. "So we decided to give it a try." With plenty of good arguments up their sleeves, Corbalán and Rojas went to visit Fritecno. The engineering company had received an order from Olot Meats for the design and installation of an entire refrigeration system. Based on hard facts and figures the two set out the advantages for the end customer: A lower noise level and, most importantly, massive energy cost savings for the type of application typically encountered in refrigeration systems with continuous operation over the full speed range.
"We have made use of EC technology for smaller projects in the past," explains Jordi Tarres, Fritecno project engineer, "but never on such a grand scale! In the end we as engineers were convinced by the abundance of technical advantages, including a low fault rate, MODBUS connection, convenient control and monitoring." That decided it: The engineering company was determined to win over Olot Meats to the EC fan as well. Being a regular supplier, the customer places plenty of confidence in the expertise of Fritecno. And Olot Meats are also committed to sustainability – so a combination of low CO2 emissions, excellent quality and low operating costs was an ideal solution. The outcome was that ebm-papst Ibérica received the order for 108 size 910 GreenTech EC fans to be delivered in November 2012. But that still wasn't the end of the story.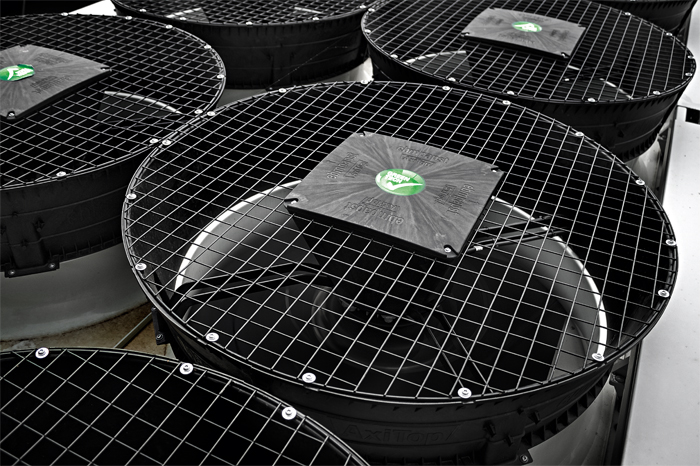 Added bonus on top 
A pleasant surprise awaited at the Chillventa Refrigeration, Air Conditioning, Ventilation and Heat Pump trade fair in Nuremberg, where Intersam were exhibiting the brand new AxiTop® diffuser from ebm-papst on one of their condensers. Representatives from Fritecno visiting the stand took an immediate interest in the product. The members of the Spanish engineering company responded enthusiastically to a spontaneous presentation with the participation of Fritecno, Intersam and ebm-papst. "We immediately realised that the diffuser would be an ideal addition to the Olot Meats project," as Pere Solé, sales manager at Fritecno, is still keen to explain. "As the abattoir is not far from a residential area, the customer placed particular emphasis on a quiet-running installation. And the fact that higher air handling rates are anticipated for the future makes any possible energy savings even more of a priority."
Fritecno would have liked to order the AxiTop® straight away. However there was a problem: "Only the size 800 diffuser was available at the time," as Juan Corbalán recalls. "The 910 version was still at the development stage." But the start of installation work at Olot Meats was already firmly scheduled for January – with no chance of postponement. "In October we thought this was an impossible task, after all there weren't even any tools ready for the 910 at that point."
Up onto the roof in two stages
The solution was a two-stage plan: As agreed, ebm-papst delivered the type 910 EC fans ordered to Intersam in November, where they were mounted on the heat exchangers and sent to Girona for installation. In January, the equipment was then gradually installed in the building and on the roof by Fritecno. This gave ebm-papst the time they needed to work flat out to complete development of the size 910 diffusers, make the tools and start series production of the AxiTop. "We assembled the 108 AxiTops at our Madrid branch and sent these directly to Olot Meats," explains Corbalán. "There they were installed just in time." Is that now the end of the story?
"For us the Olot Meats abattoir is a reference plant in this region," as both Jordi Tarres and Pere Solé from Fritecno point out. And even today Germán Rojas from Intersam remains impressed by the smooth implementation of the project: "Despite four parties being involved, the negotiations always went very well and quick decisions were taken."
The AxiTop diffuser for axial fans
The diffuser helps to enhance efficiency and significantly reduce noise. Its pressure boosting effect minimises exit losses and facilitates adaptation of the fan to commercially available heat exchangers. Up to 27 per cent energy savings are thus possible and the sound power can be reduced by 7.2 dB(A).
More information about AxiTop®